Coworker: 5 typical profiles that you will either like or hate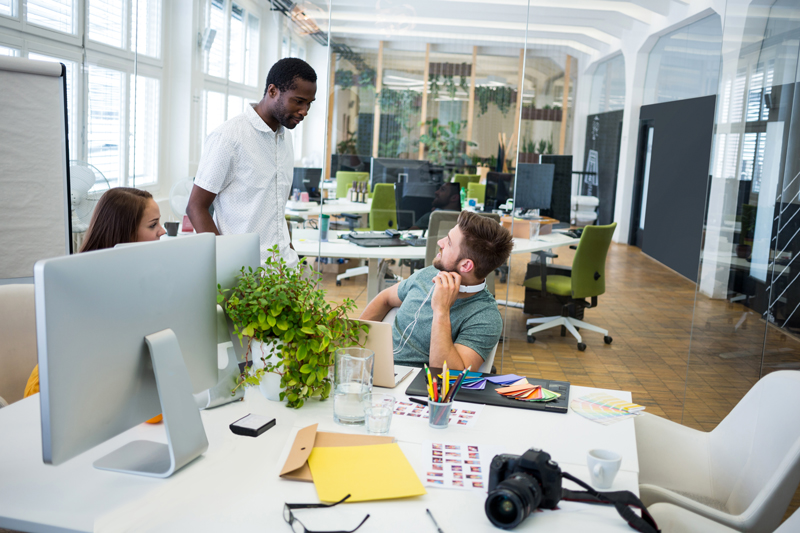 When you work in a coworking space, you are brought into contact with other coworkers with varied and original profiles, which may or may not please you. And unlike traditional office colleagues when you have a more traditional sedentary professional life, you don't have to put up with them. Indeed, because of your nomadic lifestyle, you can switch coworking spaces and therefore coworkers!
When it comes to coworking, there is no such thing as a typical coworker profile. Some will say that he is young, independent, creative, bobo-hipster, and/or an organic bulk tea drinker… These are obviously erroneous social representations. Nevertheless, when you have worked for a while in coworking areas, there are certain categories of coworkers that stand out and it is important for you to get to know the people you will be seeing better. Perhaps you can recognize yourself among the following different composite portraits? Or not… you tell us!
The geeky coworker
The image of the nerd or geek has been sticking to the coworker's skin for a long time. The stereotype of the self-employed developer/worker comes from a core truth: many people think that coworking was born in Silicon Valley and the shortcut with the technology fan is quick. However, it so happens that the first coworking space was born in Berlin in 1995, the real origin would even go back to the Renaissance period, within the workshops of Italian artists!
Nevertheless, there is still a certain reality because many self-employed workers are active in the digital world: back-end or front-end programmers and developers, SEO reference and experts, Community Managers, etc. This type of coworker needs a workspace with a good internet connection and coffee. Okay, it's a cliché! Nevertheless, identify it as soon as possible because it will be of great help if you have trouble setting up a wordpress plugin on your site or will guide you on the best tools to use to be more productive like Asana or Slack. But you don't have to follow his Github page!
The "big brother" coworker
You barely arrived in the coworking space when he took you under his wing. He has his own small business and has already worked in several companies before finally setting up his own business as a company stylist or press officer. He is not a stingy adviser and if you ask him, he will give his opinion on your business project, your case study, a creation or an estimate to be made. Pamper him because 1/ he has influence within the coworking space in which he evolves and 2/ he knows the different structures well and can bring you precious information to contact the ICC, a future Business Angel, the BPI, the French Tech, etc. He has also tested many coworking areas and will give you valuable tips to tell you which are the best places to cowork.
Be careful and keep your distance anyway as he tends to take up a lot of space and give his opinion on everything.
The communicator
He can be found in both profiles above, namely the Community Manager (stamped geek) or the press officer. Often communication manager at the advertiser's or agency's then converted into a freelancer, press relations specialist, influencer 2.0, he knows people and can be relevant to your business: be close to him and you will benefit from his network and his important address book. Feel free to ask him to retweet your future Kickstarter campaign, enjoy your Facebook page, follow your Instagram account or ask him for contacts from journalists.
His knowledgeable eye on marketing and communication will be a real asset to help you when you create your business card, your website or when brainstorming your company's punchline!
The artist
We could almost distinguish two types of profiles: the graphic designer/web-designer on the one hand who works independently for several clients, and another type less business-oriented and more oriented towards the artistic approach stricto sensu who works in a room for pure and hard creation, without being immediately in the profit business (at least in the short term, while he sells an artistic creation). In any case, both types will be able to help you with the choice of your graphic charter, give you an opinion on your logo, the complementarity of the colours or intervene for the realization of computer graphics.
The startuper : ceo in the making
Fresh out of business school or in the process of professional reconversion, you will quickly recognize this type of coworker profile by the fact that he will give you in one minute the elevator speech of his disruptive concept. His future or current Start-Up is his baby and the coworking space is for him both his company and an accelerator / incubator when he does not have the possibility to be in a nursery or incubator. A word of advice: support him in his project, he will be grateful to you. Who knows: you may have the future Zuckerberg or Xavier Niel in front of you? And you could soon benefit from its aura, even from professional projects or missions!
These coworker profiles may seem a little caricatured, yet from personal experience, this certainly represents 80% of the people who work in co-working spaces. You may be surprised to meet a salesperson, lawyer or supply chain coach in this type of place, but don't be surprised because it also shows a future transformation of the world of work. Today's coworker will certainly be different in the years to come.
And you, do you recognize yourself among one of these profiles?
Bonus: we invite you to discover in video, not 5, but 6 types of coworkers you will like or hate!