How do you set up your office to be productive?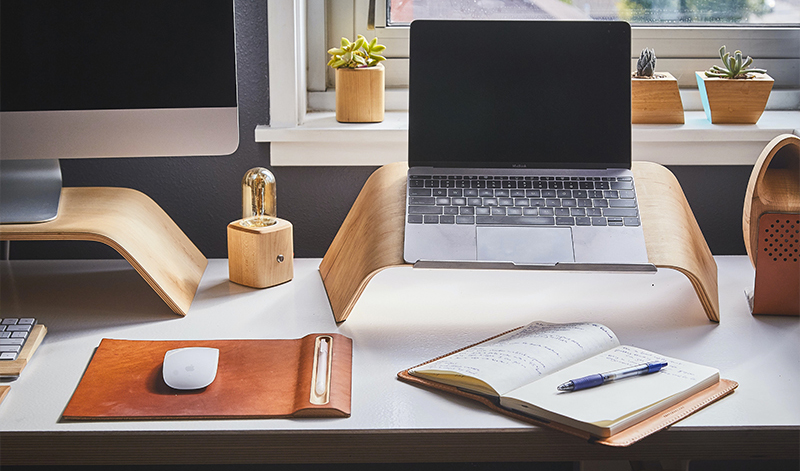 The layout of an office is essential for professional success. This place where one spends several hours a day must be cared for. Of course, the goal of every worker is to be productive while having fun at work. But how can this be achieved effectively?
Here are 5 key tips to help you design your office.
1 – Clean efficiently to prevent the spread of viruses
In this time of pandemic, the germs on your desk can also cause stress. Your office may be home to at least 10 million bacteria. It is therefore necessary for everyone to clean their desks to prevent the spread of viruses.
To limit the spread of viruses, Gergonne has invented CoversafeTM,  a self-adhesive film with exceptional anti-microbial characteristics. It can be installed very simply on many surfaces such as desks, meeting tables or even door handles. The CoversafeTM film protects you and your employees against the proliferation of viruses (including coronavirus) and bacteria.
It is fast acting. For example, on coronavirus 229E, the film is 90% effective in 1 hour and more than 99.9% effective in 24 hours.

2 – Opt for functional furniture
Choosing the right office furniture is the first key factor in setting up a workspace conducive to performance. To ensure that your office corner is arranged in the best conditions, we recommend that you choose quality furniture. It is also important to install them in such a way that you feel comfortable at your workstation.
An office space deserves to be elegantly furnished, combining functionality and aesthetics. An ergonomic desk will also contribute to greater comfort, above all in the context of computer work.
You can opt for adjustable furniture to prevent health problems. Comfortable seating will prevent back, neck, shoulder or wrist pain. It will also reduce the risk of obesity and posture problems.
Very popular in recent years, the sit-up desk is increasingly appreciated for its adjustable height. It allows you to alternate sitting and standing movements during the day. This helps you feel a huge difference in your positions.
3 – Place your desk in a quiet, well-lit corner

Before deciding on the positioning, delimit the area dedicated to the work with panels or a screen. Also consider moving away from traffic areas such as a wide hallway or entrance.
The lighting of the work room should also be taken into account in order to work in the best possible conditions. A room bathed in daylight helps improve concentration and promotes well-being. Natural light or a suitable luminaire and a pleasant view will help you to be more efficient.
4 – Focus on decoration details
Fitting out and decorating are also among the factors that contribute to well-being at work. Personalize your office corner according to your tastes or current trends! But by adopting your own style, you'll avoid changing your decorations according to the latest trends.
To decorate your workplace, find objects that represent you, such as photos of your loved ones or family. You can also add objects brought back from your travels or vacations.
Dare to mix elegance and simplicity to obtain a refined decoration, favorable to concentration. However, don't hesitate to add a touch of color, with a wall decoration for example, or with pretty pencil pots.
The office is a place where concentration is essential. A feng shui atmosphere is therefore ideal to promote concentration. Green plants will add a touch of greenery to your environment. Whenever possible, opt for house plants such as cacti, ficus, ivy or succulents. Don't hesitate to highlight your plants with pretty patterned or colored planters for a touch of pep.
And to add to this peaceful environment, incense sticks or essential oils will perfume your office. Be careful however not to use candles, dangerous because of the risks of fire and forbidden in a professional environment.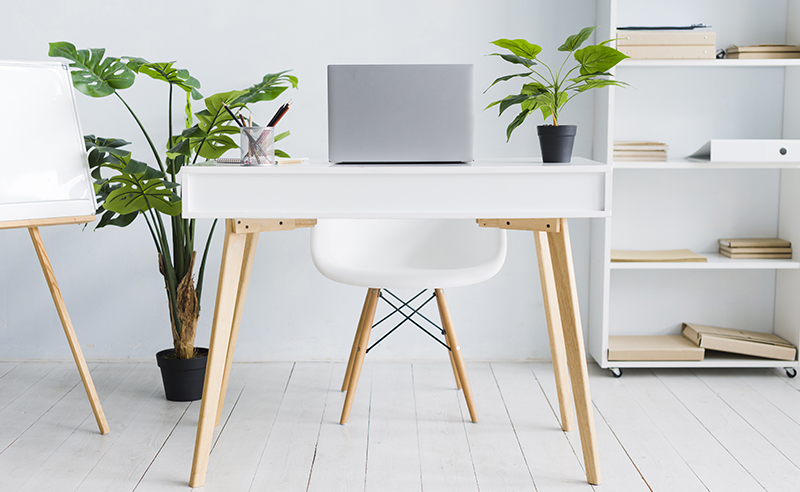 5 – Organize your storage in a perfect way
To feel good in your work environment, your office needs to be perfectly tidy. So before you get to work, don't hesitate to tidy it up. The first thing to do is to optimize the space around you to save as much space as possible and make it easier to move around the room.
The first thing to do is to optimize the space around you to save as much space as possible and make it easier for you to move around the room. Use the drawers of your desk directly to store files within easy reach. Use an enclosed cabinet or storage units to store your books or archives. This way, you won't overload your workspace. This way, only the essentials will remain on your workstation, namely your computer, your files being processed and your small decorative objects.
And to keep your desk perfectly tidy and to avoid being overwhelmed, tidy it up regularly. Don't leave your stuff lying around after each use: you'll save a lot of time doing your work.
As a specialist in workspace rental, Choose and Work will help you to do this.