EXECUTIVE ASSISTANT OR SECRETARY 5 TOOLS TO SIMPLIFY YOUR LIFE AT WORK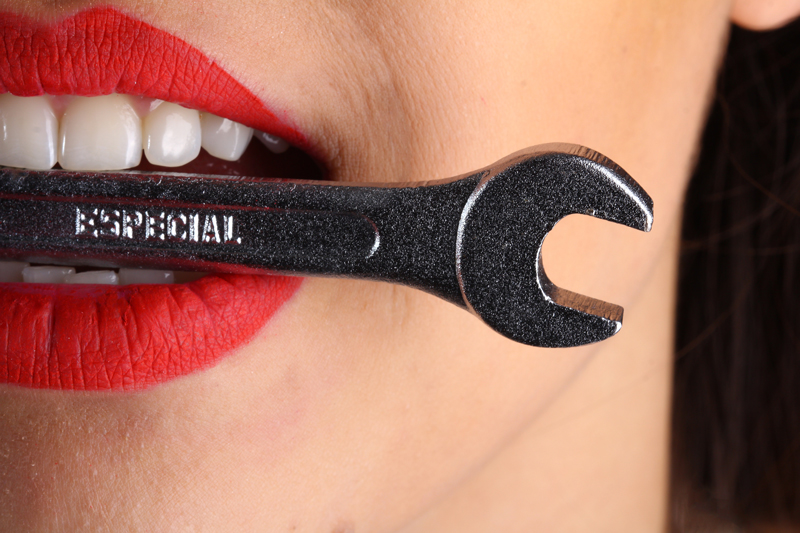 Being an executive assistant is not always an easy job. In addition to the knowledge inherent to this job (mastery of office tools, time management, stress management, good oral and written communication …) it is also necessary to know how to work for (and in) a team and be reactive and curious.
In short, not always easy, especially when you have to support everyone at the same time.
Here are some tools which, if you do not know them, will allow you to face, we hope at least, more serenely your daily professional life.
Trello the management assistant's toolbox

If Trello has been used for a long time by the geek and technical sphere, especially for project management, it also appears to be very practical when you are a super secretary who is sometimes (not to say always) on all fronts at once.
What you need to know about Trello is that it is a collaborative work tool. If you are part of a team or if you are several assistants working on the same file, it will be particularly interesting. Finish the "did you process this application? "or the "Sylvie is not here today, I don't know what she did (or what there is to do)". In short, with Trello, it's the end of the lost and forgotten post-it notes.
But it can also work very well as a reminder for oneself ?
How does it work?
These are in fact organization and synthesis tables. In an instant you visualize everything that concerns the subject of the table.
It works a bit like a post-it system with, as a bonus, e-mail alerts for the people concerned and labels.
Are you in the dark and need an example? Here are some of them: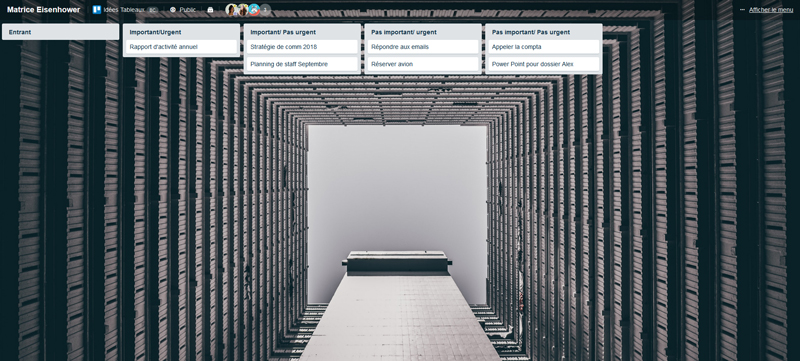 Todo list for the preparation of a conference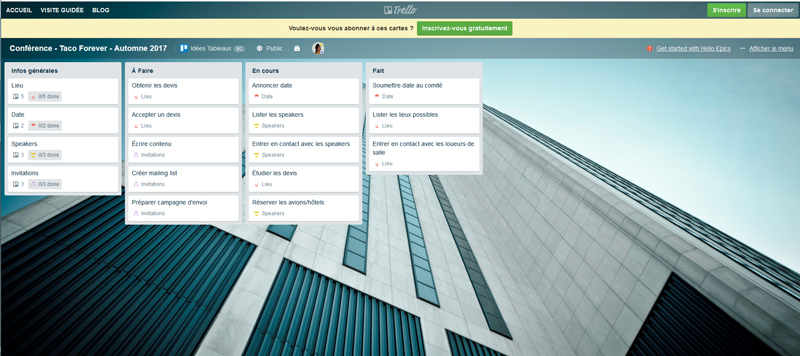 More examples can be found here: https://blog.trello.com/fr/exemples-de-tableaux-trello
Of course you are free to create your own tables for your folders. For example, a tender follow-up table, a meeting preparation table, an accounting follow-up table …
And the price in all this?
Icing on the cake, this tool is free as long as you don't exceed 10 paintings. With the free subscription you can also associate a power-ups (include a module associating Trello to another application) like Google Drive, Dropbox, Mailchimp, Twitter, Survey Monkey …
In short, it is an agile and very practical tool that can only help you in your work as an executive assistant.
Dashlane, security and password management
How many times do you connect to your company's account on one of the countless services on the web? Everything is done on the Internet now, even the management of a company.
And that's where the bottom hurts. When it's time for RGPD, it's more than tricky to keep writing down passwords in a small notebook hidden in the bottom of your desk drawer. Yes but, hiccup! Impossible to remember all the passwords, especially when those are 14 characters long and string the $[~] and others.
Dashlane is one of the solutions to secure your passwords when you create them but also and especially to save them.
Like any good software package that respects itself, it has a free version (allowing the storage of 50 passwords) and more if affinities.
Admit that it is still better than having a panic attack if your directory disappears, no?
Evenbrite, to manage an event easily
One of the recurring missions of secretaries and executive assistants is to organize professional events. Moreover, do not hesitate to contact the Chooseandwork team who will accompany you free of charge in your preparation.
Once the milestones have been set, i.e. the theme found, the rental of the meeting room, the reservation of the restaurant and the choice of the animation made, all you have to do is to follow the progress of all this.
Eventbrite is an application (here again with a free and a paid mode) allowing you to simplify the management of your event. How can you do it? By creating a page to promote your event, by allowing you to manage registrations (free or paid ticket sales system depending on your choice), to send reminder emails to participants… In short, the perfect assistant to the assistant.
Canvas, to make documents like a pro
As an assistant, you certainly have to realize or to format commercial proposals or other company documents.
Canvas is a tool that allows you to create professional presentations in a simple way (such as slide shows, posters, business proposals …) using a visual editor. It's simple, professional, beautiful and fast. You have a template gallery and you also have the possibility to import your own visuals.
No need for a graphic designer, everything is managed by Canvas and you can directly from the application, choose to print your documents (of course for a fee).
Doodle, to organize meetings without sending 20,000 emails
If you're new to Doodle and you're managing the organization of your company's internal meetings, hurry up and create an account!
This application (again free up to a certain level) allows you to plan an event, invite attendees, and manage attendees and absentees in the blink of an eye. Thanks to its yes / no / maybe system, you can organize the meeting according to the availability of your colleagues in a few clicks.