Top 10 meeting rooms in Madrid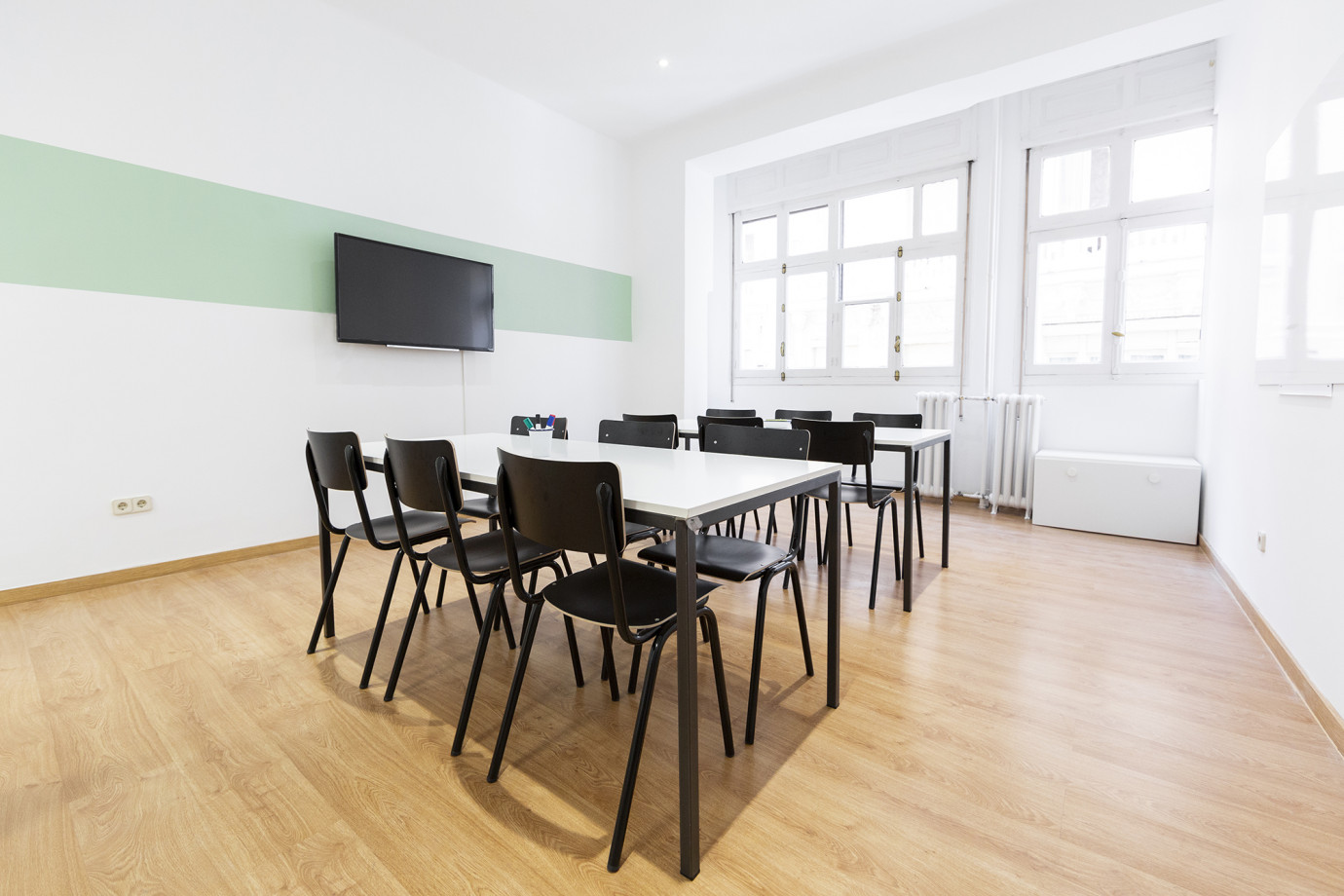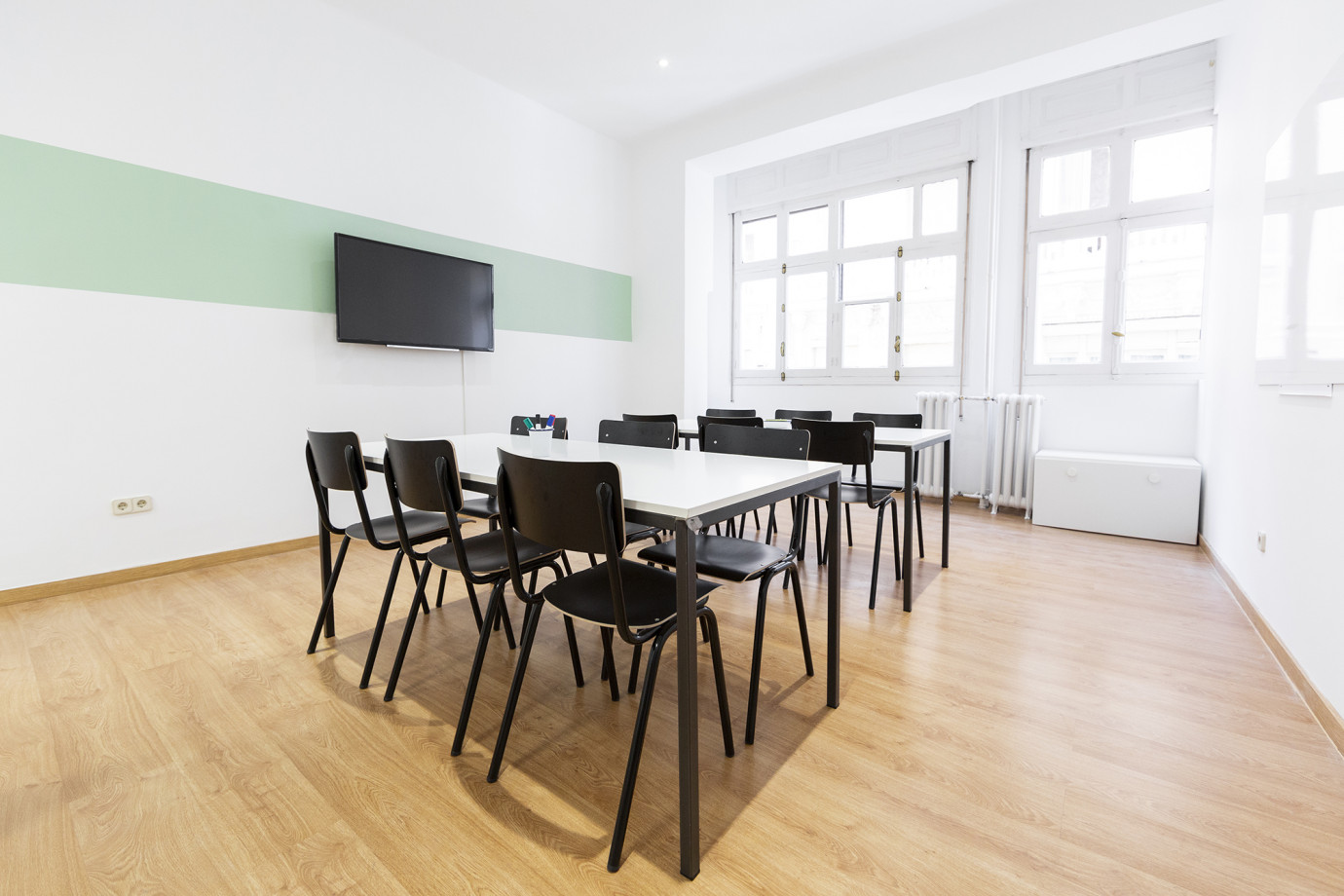 When it comes to meeting rooms and work spaces for rent in Madrid, you are spoilt for choice. Whether you are meeting for brainstorming or training, it is essential that your meeting room meets your specific needs.
In this article, we have prepared a selection of 10 professional meeting spaces in Madrid, ranging from high-end meeting rooms to modern spaces and bright meeting rooms. Your ideal meeting place in Madrid is just a few clicks away. ?
A minimalist framework for your next meetings in Madrid
Take advantage of this exceptional space for your next meetings in Madrid. Located just 5 minutes from Avenida de América, this meeting room combines comfort and minimalism, offering all the facilities to accommodate up to 16 people. Renting this minimalist room will give a less formal tone to your meetings.
This colourful meeting room will make your meetings more enjoyable.
Another original meeting room for your corporate events. Located in the district of Salamanca, this colourful space is fully modular and can accommodate up to 55 people.
Right in the centre of Madrid, this workspace is easily accessible, making it ideal for organising your business events in the capital of Spain.
C for cosy and comfortable
This cosy meeting room with its modern design will be perfect for meetings, focus groups or training sessions. Accommodating up to 8 people, the rental of this versatile space is ideal for small business events.
A space that is both contemporary and elegant
Whatever the desired layout, this elegant meeting room will meet your needs in terms of space planning. It can accommodate between 12 and 20 people and is located in the Plaza de España, one of Madrid's most emblematic sites.
Meeting room bathed in daylight
Located in Paseo de la Castellana in Madrid's financial district, this attractive meeting room has a surface area of 30 m² bathed in daylight.
Ideal for a small group of up to 12 people, this space is designed for business meetings or training sessions, and can be adapted to suit your needs.
Official spirit for your general meetings
Are you looking for a modern space that can accommodate about twenty participants? Right in the heart of Madrid, this beautifully equipped room will host any type of meeting and professional event, from a general meeting to a training session for employees or a brainstorming session.
Your small group meetings in Madrid
Rent this small meeting room to plan your business meetings, trainings, or recruitment sessions, in the centre of Madrid that can accommodate a team of 6 people. You will have all the equipment you need for a good day's work.
Spacious space for your professional events of large groups
Ideally located, only 5 minutes from Atocha station, this space is perfect for meetings or training for large groups. This cosy room can accommodate up to 24 people in a pleasant and bright setting and offers a lounge area and even a kitchen.
Organize a "Fun" meeting in a warm setting
This beautiful, bright room can accommodate up to 12 people in a warm, comfortable and modern working environment to ensure that your professional events take place in the best possible conditions. The little extra: a lounge area with sofa and armchairs to recharge your batteries while enjoying a good coffee.
A meeting room entirely designed for your meetings
Take advantage of this fully equipped meeting room: television, DVD, flipchart, markers, etc… to organise your training or business meeting in a unique setting. Located in the heart of Madrid, this meeting room can accommodate up to 15 people.
---
You wish to organize a professional event?
Send your request to our team of Chooseandwork experts and receive a tailor-made proposal.